Privacy Protection for Your Domain Names [Add-On]
As soon as you register a domain name, your personal information such as name, company , postal address, email address and contact numbers are exposed internet by domain name registratin system.
We have privacy protection on all international domain names as add-on (except for .asia/co.uk/.au) to protect your privacy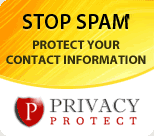 Do you know ?
Using our privacy protect service, you can hide your personal details from Public.
It prevents you receiving number of spam emails as well as scam request for your domain
You retain full control of your domain. You can cancel, sell, renew or transfer your domain, set up name servers for your domain and resolve disputes involving your domain.
You can disable/enable privacy protection of your domains anytime using domain control panel..
Privace Protection cost Rs 600/- Per Year
Please note this feature is not available for LK Domain Names.